"Freedom isn't Free."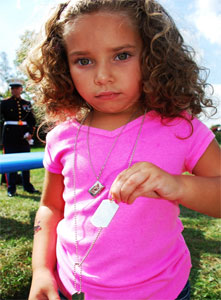 Our uniformed men and women believe in and defend this statement on a daily basis.
Our brother, son, and friend-Corporal Christopher Kelly Willis-was the embodiment of military spirit and dedication, and we aim to preserve his memory by providing college scholarships to children whose parent was killed or permanently disabled in a combat zone.
Learn More

2016 Warrior Ride
Join Us for the 2016 Warrior Ride Reception!
RSVP Now
In any military operation, it is well-known that combining talent and resources results in a more swift and decisive victory. We are nothing without support from our friends, family and supporters.
We make it easy to donate, volunteer, and participate to help support our mission.
Learn More
News for this year's ride:
Every year, our foundation hosts a "Warrior Ride" to remember Corporal Christopher Kelly Willis and to raise money to provide college scholarships for children of our American Heroes.
View All
Information about past events:
2015 Ride: Bay City to Fort Custer
2014 Ride: Manistee to Fort Custer
2013 Ride: New Buffalo to Fort Custer
2012 Ride: Oakland County to Fort Custer
View All
The "Rider Tracker":
The participants in this year's Warrior Ride have each pledged to reach a fundraising goal to support the overall mission of the Foundation.  We thank each of these hard-working riders and encourage you to support them through whatever means you can.
It's our hope that our "Rider Tracker" page not only easily displays the current amount of their contribution but also fuels a little healthy competition!
View More Details
Greater love hath no man than this, that a man lay down his life for his friends.
-John 15:13